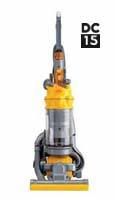 I've just recently seen these unique and "space age" looking Dyson vacuum cleaners on television. I've often thought, "How cool…wish I had one of those"… Well now, it looks like James Dyson who originally reinvented the wheelbarrow, and then moved on to great vacuum cleaners is at it again with another neat product.

Photo Sharing - Upload Video - Video Sharing - Share Photos

Check out this new-fangled bathroom hand dryer called the Dyson Airblade hand drier. I can't wait to see one of these "coming soon to a bathroom near me". It claims to dry your hands in 10 seconds and use 83% less energy to do so. The Dyson Company states that it accomplishes this by using Dyson's motor technology and the anti-bacterial filters developed for their vacuum cleaners to clean both the air that blows onto your hands and the water that comes off them.

I don't care how it works…it looks cool to me, and I'm all for getting in and out of the public restroom faster and cleaner than when I entered :)