Those of you who read my blog on any kind of regular basis know I'm a sucker for the kids. I believe the youth of our nation are already at a disadvantage with all that's going on in the world of late, and so when I come across one that deserves an extra pat on the back, I will be the first to give that pat. I am also a karmic soul in my beliefs that in this world we are all somehow from time to time joined in kindred spirit and I believe that NOTHING happens without reason and purpose. I believe that God, whatever you perceive Him to be has a divine plan for us all that is sometimes revealed to us in the simplest ways.

I recently had an encounter like that and I would like to share it with my readers and give a very deserving young lady a pat on the back. A few weeks back, I received an e-mail out of the clear blue from Ashley. Ashley is one of millions of high school students across our USA, but she was working on a special school project in which she was to depict the life of a fallen US soldier from the Vietnam War. The randomly selected soldier she got assigned to happened to be my uncle James Glenn Standefer. She got my e-mail address from a memorial web site on which I had posted a line or two. Her e-mail (which of course came to my junk folder, and thankfully I didn't delete before reading) simply asked for any details or stories I could give her regarding Glenn that could bring factual life to her report. I e-mailed her back, and told her that I was too young at the time to have known him personally, but I would forward her e-mail to others in my family. Glenn's sister had a lot to do with his memorial site, and Ashley contacted her too.

I am so happy that she was actually able to find members of this man's family to share with her his story, and one fallen soldier was again brought to life. So many times people tend to ignore e-mails from strangers, or not believe that whoever types the text is legitimate, but Ashley gave someone from my family a chance to once again be honored so very many years later. These happenings made me (at 43 who spent most of my life from any age to remember without war) realize just how the various wars and conflicts of our country's history are still important today in keeping the freedoms we enjoy and take for granted. My Grandfather served in Germany in WWII. My Great Uncle endured many battles in Austria. My other Great Uncle served in WWII. My father was enlisted, and served at Guantanamo Bay, and I was born at a naval hospital in Norfolk, Va. Too young to realize the significance, my uncle Glenn gave his life outside Saigon for this country. Today, many soldiers are laying their lives on the line defending our way of life in the Middle East. I would like to share the time line of Ashley's report with you, and allow you to once again remember all the great soldiers that keep our country free. NOTE: I WILL DELETE OR SKIP OVER ANY IDENTIFYING INFORMATION ABOUT THIS YOUNG LADY, AND WILL NOT BOTHER TO EDIT THE COPY…

First E-Mail:

Greetings!
My name is Ashley XXXX and I am a sophomore at XXXX High School in XXXX, XX. I am in an Honors English class where we are doing a unit on the Vietnam War. In the process, we are asked to research a Casualty of the war in which I was asked to represent your family member, Sgt. James Glenn Standefer. I would like some information on him, maybe some stories or something of the sorts; only if you are willing to do so.
If you could please contact me, that would be splendid!
My email is XXXX
My Address XXXX
My phone number is XXXX

The most gracious thanks available,
Ashley

I responded to her:

Hi Ashley:

You obviously got my e-mail address from his website. How cool it is that you are doing this kind of report. You should definitely seek out XXXX Standefer's address from the same site as that is his sister. If it's not there, let me know and I will find it for you.

I was very young when he died. I remember the funeral, and how amazingly impressive that was, and scary too for a kid. Our family is very honored that he lost his life serving our country. His wife has passed away already too, and I'm not sure how to get in touch with his kids, but I'll try to get more information for you by forwarding this e-mail along.

Good luck in your efforts, and thanks for your e-mail. I'll save your address and see if I can help.

Malinda


I never heard from this young lady again until recently, when I received this e-mail:

Hello once (and probably lastly) again,
As we are wrapping down our unit on Vietnam, giving our presentations on Wednesday, April 5, I would like to thank you for all the information that you have given me on Sgt. James G. Standefer. It is greatly appreciated in ways unimaginable. You have made this project stress-free for me by all the details and information you provided. I think the only stress I have is due to my procrastination of getting all my work done in a timely manner, ha ha.

I was the only one of my peers who was able to get a primary source to respond and I feel not only lucky to have this happen to me, but blessed to have such kind people in the process. One of my Classmates actually did contact someone and got one email out of them that just told her that he was one of the men who served with him, but he wasn't willing to give forth any stories anytime within the next week because he was on vacation. Over our spring break, he died of natural causes. She only found this out by googling him. I felt so sorry for her because it looked like a promising lead.

Now, as I finish up my required papers for this assignment, I would like to thank you one last time. I have grown so much from this. I went from knowing hardly anything about the Vietnam War to knowing more than I could have Imagined. In some places, it was difficult to read what I have read. I can't begin to perceive what it was really like. Those who experienced it are in my prayers daily along with anyone who has experienced anything like this, more especially with our Young Men over in the Middle East, More especially with three of my best guy friends with in Iraq or Afghanistan or shortly to be there. I Really don't think anyone can get a solid appreciation out of anything unless they take the time to really focus on it or go through it. You can only be taught what you are willing to open your eyes to.

Of the Highest Gratitude,
Ashley XXXX

I was touched by this e-mail, and responded that I would like to hear from her one last time, and would like to see a copy of her report. I thanked her and commended her for her efforts. She again e-mailed me one last time, and I'd like to share with you her final e-mail and report. I even learned a couple of details from her final report that I never knew about my uncle. Finally, I'd like to once again thank the dedicated men and women that serve our country. And, thank you Ashley for bringing a piece of your life together with ours. May you always remember the fallen and praise the standing for their efforts.

Here is the requested copy of my report and some pictures of my visual. I am proud to report that I wound up making an 87 on this project and it was the second highest grade in my class. My teacher is a very strict grader and he said that I had done very well with fulfilling the requirements. I don't know if this is Awkward to say or not, but I truly became emotionally attached to this project. When I came to the point in my report to where I had to tell of his death, I had to keep from crying. It felt weird, this has never happened to me before. This is most definitely one project that I will not forget. Thank you for all the support and help you provided.
Ashley XXXX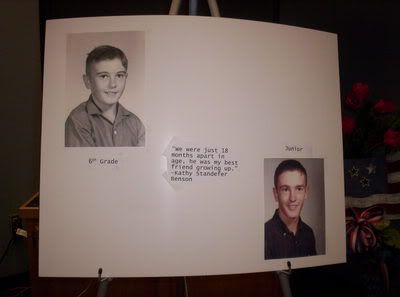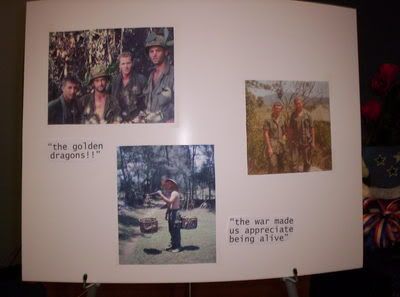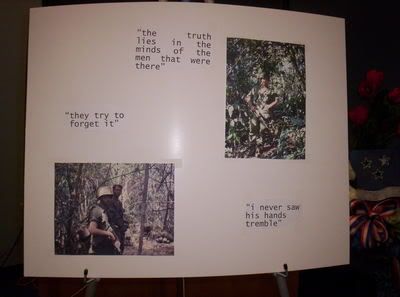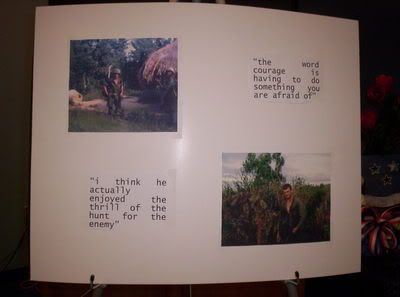 I AM
James Glenn Standefer

"Hey Standefer."
"What Calhoun?"
"When do you get to go home?"
"Soon."
I am James Glenn Standefer, born to Virginia L Henderson Standefer and Morris G. Standefer in Stanton, Texas on July 7, 1948. I was the first-born child of the proud couple. My family called me Glenn. I grew up in Stanton with my 3 younger siblings, Kathy, Dianne, and Terry, until my parents divorced. I then moved to Colorado City, Texas with my grandparents. I attended the Colorado City schools and was a very active member in the high school athletics program. My junior year in high school, at the age of 15, my wife, Jo Anne, and I brought forth a child to the world named James Brittain. At the age of 17, my father died in a car accident. This was a difficult time in my life trying to raise a child, go to school, work, and grieve the loss of my father. I divorced Jo Anne and I decided to go into the service in 1966.
After I completed basics in Fort Bliss, Texas, I started my tour in Viet Nam on April 4, 1967. I was thence assigned to Charlie Company, 1st Battalion, 14th Infantry Regiment, 4th Infantry Division. We were called the Golden Dragons. I loved my job. I was considered to be part of the elite group in my platoon along with two of my best friends, David Able and William stump. I always carried an M-14 along with me everywhere I went. I was an excellent shot. I once went through the backside of a ravine to save my whole platoon that was trapped by a sniper. When I snuck up behind him and yelled "HEY!" he turned around and didn't even bother to raise his gun because he knew he had met his fate. In fact, I killed many snipers of the Viet Cong using this method and many had the same reaction.
About the time I was supposed to leave Viet Nam, the government got some paper mixed up and I had to stay a little longer. So, I was on my way to another area for the short time I was to be there. I loaded up on the helicopter with seven other men: Jeffrey R. Byrne, Noel D. Williams, David W. Heck, Brian W. Bates, Rhondal G. Claypool, Tommie Brandon, and Darrell L. Cabell.
On February 18, 1968, the enemy shot down the helicopter we loaded into. The helicopter was made of Magnesium, so there was no hope of it being extinguished.
I was MIA for three weeks after the accident. Until finally, my medic, Doc Calhoun could identify my remains by the M-14 I always carried. All that was left was the barrel.
I was buried in Colorado City, Texas with military honors of a Bronze Star, a Purple Heart, two Army Commendations, a National Defense, a Vietnam Service, and a Vietnam Campaign. My football coach conducted my funeral service, in which there was a large attendance by my family, friends, and many members of the community.
Today I have 3 grandchildren XXXX Standefer, XXXX Standefer, and XXXX Standefer. The love of my life, Jo Anne, died on March 4, 1998 and my beloved mother died in 1977. Through those still living today my legacy still remains.