Since
July 4th this year falls on Wednesday…the Wednesday Hero Blogroll is posting a blanket honor to all. Indian Chris, who does all the hard work for Wednesday Hero encouraged us to add an additional tribute if we wished.
I wish to step back in time and honor my uncle Glenn Standefer. He gave his life for this country in Vietnam. I was too young at the time to have ever have had the pleasure to know him as a man. I remember his funeral, and the honor our family gives him for his sacrifice to his nation.
Last year, a complete stranger…a young high school student from another town had drawn my uncle's
name as a part of h
er high school proje
ct.

She honored Glenn Standefer in her classroom
, and below this bio is a clip of her report.

Read how I learned o
f Ashley's project
HERE
.
Uncle Glenn…thank you for my freedom…thank you for your sacrifice.
James G. Standefer was born in Stanton, Texas and grew up in Colorado City, Texas, a community west of Sweetwater, Texas on I.S. 20. The community is oilfield and agriculture (cotton farming). James attended Colorado City Schools and was a 1966 graduate of Colorado City High School. He joined the Army shortly thereafter and he loved the Army. He was an excellent shot and preferred to carry the M-14 as his weapon of choice in Vietnam. He loved walking point and enjoyed the excitement of combat and being in the field. He was cited with two ARCOM's with "V" devices for his exploits in the field. He once stopped a sniper who had shot up his platoon by working his way around a ravine and in behind him. The sniper, who was shooting out of a hut on the side of the hill had the whole platoon pinned down. Another time, he stopped a V.C. ambush while on point as he spotted the signs and alerted everyone and scouted it out himself. During TET his company was involved in heavy combat. On a combat assault, Sgt Standefer was killed in a helicopter that was shot down, as it was coming into a hot landing zone. He was buried with full military honors in his home town of Colorado City, Texas. He is remembered by his hometown, and by the Permian Basin Vietnam Veterans Memorial in Midland, Texas.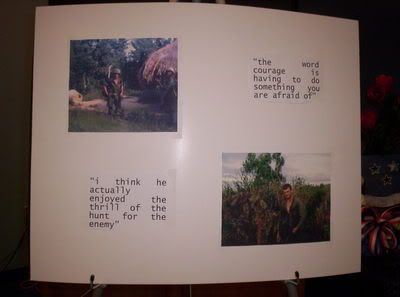 "I AM
James Glenn Standefer

"Hey Standefer."
"What Calhoun?"
"When do you get to go home?"
"Soon."

I am James Glenn Standefer, born to Virginia L Henderson Standefer and Morris G. Standefer in Stanton, Texas on July 7, 1948. I was the first-born child of the proud couple. My family called me Glenn. I grew up in Stanton with my 3 younger siblings, Kathy, Dianne, and Terry, until my parents divorced. I then moved to Colorado City, Texas with my grandparents. I attended the Colorado City schools and was a very active member in the high school athletics program. My junior year in high school, at the age of 15, my wife, Jo Anne, and I brought forth a child to the world named James Brittain. At the age of 17, my father died in a car accident. This was a difficult time in my life trying to raise a child, go to school, work, and grieve the loss of my father. I divorced Jo Anne and I decided to go into the service in 1966.

After I completed basics in Fort Bliss, Texas, I started my tour in Viet Nam on April 4, 1967. I was thence assigned to Charlie Company, 1st Battalion, 14th Infantry Regiment, 4th Infantry Division. We were called the Golden Dragons. I loved my job. I was considered to be part of the elite group in my platoon along with two of my best friends, David Able and William stump. I always carried an M-14 along with me everywhere I went. I was an excellent shot. I once went through the backside of a ravine to save my whole platoon that was trapped by a sniper. When I snuck up behind him and yelled "HEY!" he turned around and didn't even bother to raise his gun because he knew he had met his fate. In fact, I killed many snipers of the Viet Cong using this method and many had the same reaction.

About the time I was supposed to leave Viet Nam, the government got some paper mixed up and I had to stay a little longer. So, I was on my way to another area for the short time I was to be there. I loaded up on the helicopter with seven other men: Jeffrey R. Byrne, Noel D. Williams, David W. Heck, Brian W. Bates, Rhondal G. Claypool, Tommie Brandon, and Darrell L. Cabell.

On February 18, 1968, the enemy shot down the helicopter we loaded into. The helicopter was made of Magnesium, so there was no hope of it being extinguished.

I was MIA for three weeks after the accident. Until finally, my medic, Doc Calhoun could identify my remains by the M-14 I always carried. All that was left was the barrel.

I was buried in Colorado City, Texas with military honors of a Bronze Star, a Purple Heart, two Army Commendations, a National Defense, a Vietnam Service, and a Vietnam Campaign. My football coach conducted my funeral service, in which there was a large attendance by my family, friends, and many members of the community.

Today I have 3 grandchildren Brittney Standefer, Lacey Standefer, and Brady Standefer. The love of my life, Jo Anne, died on March 4, 1998 and my beloved mother died in 1977. Through those still living today my legacy still remains."